The Graham-Carroll House...Elegant. Distinctive. Welcoming. Serene.
Are you ready for an escape? Come to the Graham-Carroll House where you can relax, indulge, and rejuvenate. Relax in your beautiful suite or in the common areas, indulge in a delectable multi-course gourmet breakfast, and depart rejuvenated and refreshed.
The Graham-Carroll House is a historic mansion built in the majestic English Tudor Manor style, located in Muskogee's Founders' Place Historical District, just a few blocks from downtown Muskogee and the Civic Center. It makes for a unique stop over during a road trip or a centralized location for friends to gather from surrounding communities.
The Graham-Carroll House is easy to locate once you've arrived in Muskogee. See the directions tab to see options when arriving from various highways. And if you have time to spend exploring Muskogee, we've compiled a long list of options in "What's Nearby" to pique your interest. It is a community rich in Native American culture and history, the love of music, and regional seasonal attractions such as the Azalea Festival in Honor Heights Park, and the Renaissance Festival at the Castle of Muskogee.
Gourmet Breakfast
Relaxing and serene
Historic Mansion
Nearby restaurants
Blocks from downtown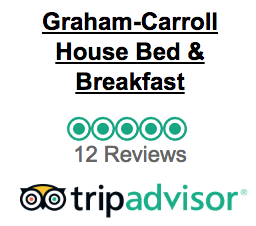 ---
Voted Best Bed & Breakfast in Muskogee
The Graham-Carroll House is an excellent choice for the couple looking for a romantic get-a-way, the business traveler seeking an alternative choice, or friends and family looking for a location to meet for a day or two. You can choose any (or all!) of our four beautifully decorated guest rooms. Each room includes a private bathroom, a queen-sized bed with luxurious linens, and other amenities. Depending upon your selection, your en suite bathroom may feature an oversized jetted tub for two, an oversized shower with showerheads on both wall and ceiling, or the antique clawfoot soaking tub.
Our guests may enjoy any of our common areas. Relax "in the treetops" on the rooftop balcony as you gaze at the stars and feel the cool breeze. Or enjoy reminiscing with friends in the terrace garden, next to the koi pond and surrounded by stately Crepe Myrtle trees casting a deep shade on a summer afternoon.
The Graham-Carroll House can also be the perfect venue for private dinner parties, bridal and baby showers, tea parties, weddings, retreats, funeral dinners, and business or community meetings. We can help you make it memorable! Perhaps a handsome prince will propose to his beautiful princess on our roof top balcony and kiss under the stars at midnight! Give us a call and tell us about the memory you are wanting to create at the Graham-Carroll House.
Learn More